Helmet Highlights

Integrated Turn Signals
Remote Controlled

Visible From ALL Angles
98 COB LEDs

Automatic Brakelights
*Optional Upgrade

Crash Test Certified
CPSC | EN1078


Over 10 hours of Battery Life
*With Full Charge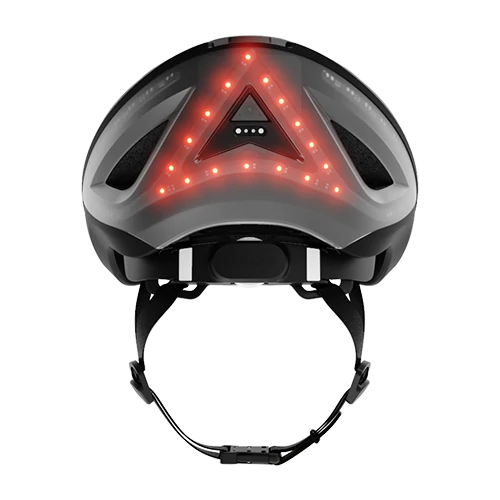 Integrated Turn Signals
Remote Controlled

Visible From ALL Angles
98 COB LEDs

Automatic Brakelights
*Optional Upgrade

Crash Test Certified
CPSC | EN1078


Over 10 hours of Battery Life
*With Full Charge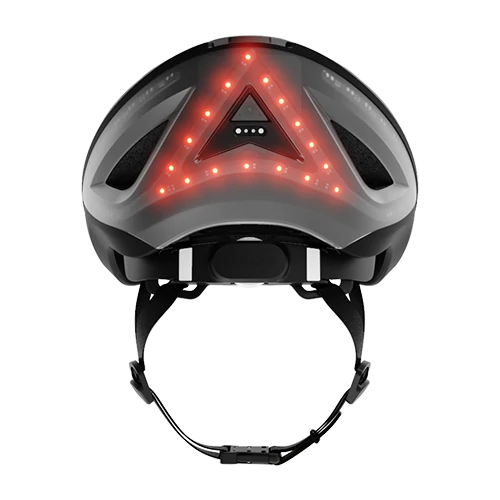 Explore what makes Lumos great: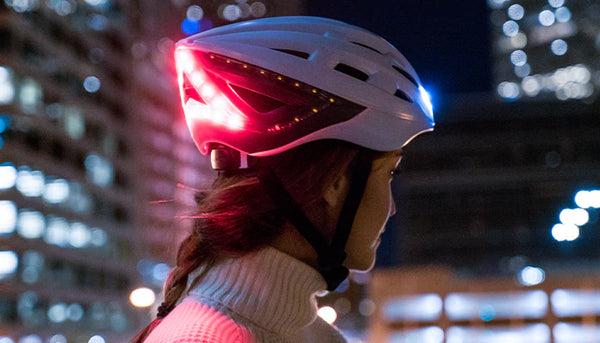 360° visibility
With over 500 lumens of output and 360˚ visibility, you've never been better equipped to take on the night. Ride confident that the helmet lights will be visible no matter which angle you're approaching from.
Turn Signals
Take away the guesswork by letting traffic around you know which direction you're turning.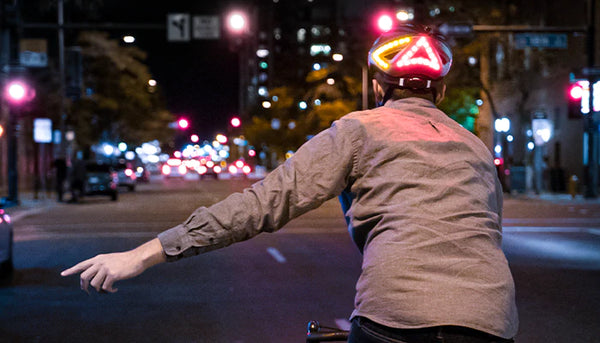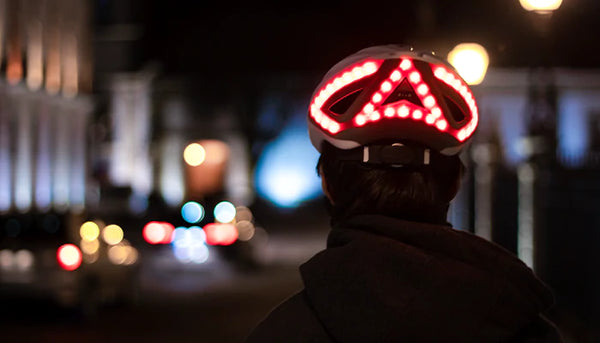 Automatic brake lights
Eliminate collisions from the rear by warning traffic behind you when you're coming to a hard stop. The additional reaction time afforded can be the difference between life and death.
Companion app
Get the most out of your Lumos helmet by pairing it with the Lumos Companion App. Customize your light flashing patterns, and check your battery life.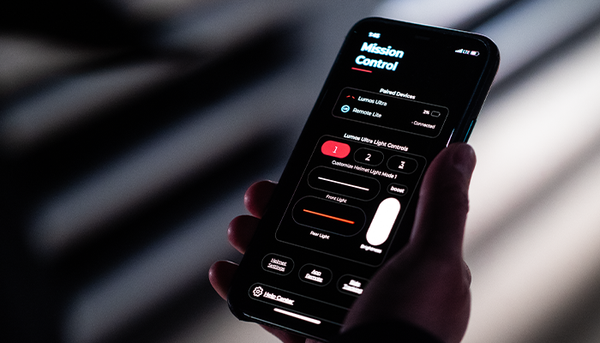 Awards won by Lumos
Approved by leaders in the cycling, technology and design industry. Ride Without Hesitation
Upgrade to MIPS for extra safety and protection features to make your ride as care-free as possible.
MIPS
Go the extra mile and kit out your helmet with the MIPS option.
MIPS is a helmet-integrated brain protection system designed to provide additional brain protection in the event of angled or rotational impacts. All MIPS certified helmets are tested to withstand an impact speed of up to 6.2 meters per second.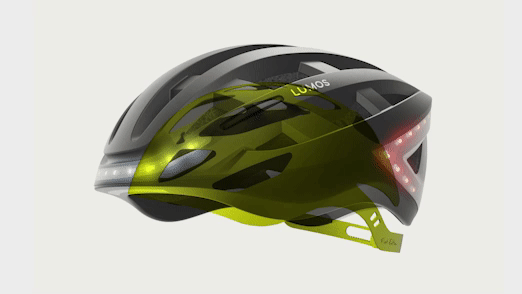 Every Detail Considered
From the 22 vents, down to the sweating-wicking material for the inner padding, we've made careful and thoughtful choices to make your ride as enjoyable as possible.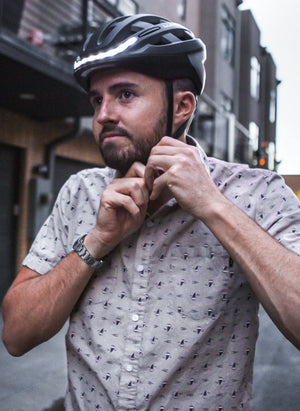 from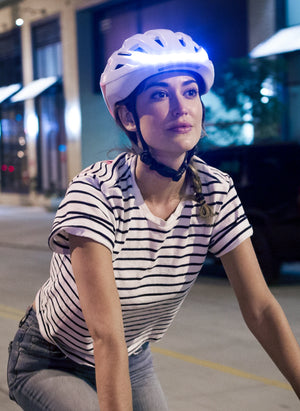 from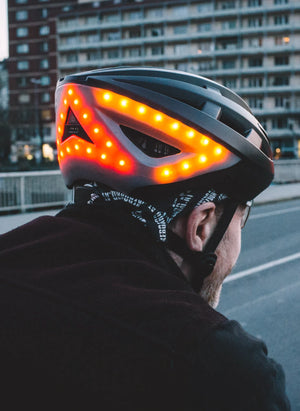 from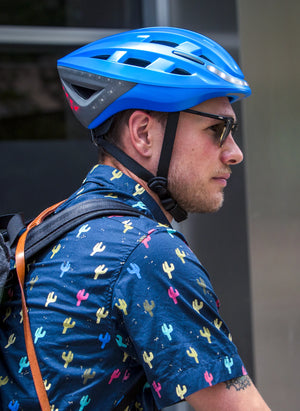 from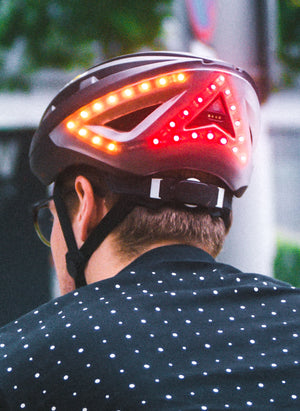 from
Very practical helmet made for city riding
I love that the helmet gives a beep sound when it's turned ON/OFF, signalling Left/Right. From the rider's point of view, you'll know that your action is being translated on to the helmet. The front lights are synchronised with the signaling for oncoming vehicles is a feature that most Smart Helmet doesn't have at this moment.
I wish the app allows the users to adjust the brightness of the LED Lights cos I find them a little too bright for a start. And if the remote can also indicate braking lights in action would also allow the rider to fine tune the sensitivity function on the app for automatic braking signalling on the back of the helmet. It is an awesome product. Although the Lumos Kickstart with Mips weights 391g, 57% more than my Met Rivale Helmet, I'll still enjoy riding with it cos the features are just so useful. I hope the app team will be able to add the 2 features I've mentioned above to the product to make it even better. Thanks!!!
Not received
I ordered this before Christmas and I have not received it. Difficult to assess if I don't have it. Also the app for tracking does not work well
Not received……
Hi there - I have not received this yet and obviously not able to rate anything.
No idea where it is and online tracking is useless.
Was sent 05.12.21 according to e-mails, but no proof or electronic tracking that provides any sensible information.
Still waiting for my order
I have yet to receive my order after almost 2 months. Now was asked for a review. Wonder if I will be able to receive my order after all.
It must have gone wrong in transition somewhere.
Hopefully they will look into it so that I can receive my order.
Once again, nothing shows up.
This is the third time I order a Lumos helmet. Couple of years ago, I paid in full but never received anything. The same happens to me again this time. So disappointing !